白白庵 オンライン+アポイントメント限定企画 | PAKUPAKUAN Online + Appointment Limited exhibition

彼 岸 と 此 岸 の 中 洲 で 佇 み 、 祈 る 。
He stands and prays on the middle ground between this world and Nirvana.
白白庵 オンライン+アポイントメント企画
陶 芸 家 ・ 伊 豆 野 一 政 個 展

PAKUPAKUAN presents
Ceramic artist IZUNO Kazumasa solo exhibition
"HIGAN"
The other world
【オンライン開催期間】
 日時 2021年5月22日(土)午前11時 ~ 31日(月)午後7時
 会場 白白庵オンラインショップ 《PAKUPAKUAN.SHOP》 内特設ページ
【ON LINE VIEWING】
 DATE & TIME :
2021.5.22 Sat. 11:00am. - 5.31 Mon. 7:00pm.
 VENUE : Special issues page on
《PAKUPAKUAN.SHOP》
【ギャラリー来訪アポイントメント】
 日程 2021年5月22日(土)~ 31日(月)のうち、金・土・日・月曜日 限定
 *今会期のアポイント受付日は、5月22日(土)~24日(月)、28日(金)~31日(月)
 時間 午前11時~午後7時 の間で 一時間枠
 *一時間を上限とする来訪枠を設定し、各枠内で最大2名までの受付といたします。
 *3名様以上でのグループのご来訪はお断りします。
 *アポイントは訪問前日の営業時間内迄の予約受付を必須とさせて頂きます。(メール,電話,各種SNSからのメッセージにて)
 *マスク着用、入口でのアルコール消毒・検温必須。
  感染症予防対策を万全に講じ、事前予約のある方のみ来場可能とさせていただきます。
 会場 白白庵(1階エントランスギャラリー、2階サロン)
 予約 info@pakupakuan.jp, TEL 03-3402-3021, facebook, twitter, instagram
【Appointment for visiting PAKUPAKUAN gallery】
 DATE : Only
Friday, Saturday, Sunday, Monday
and
National holidays
during
2021.5.22 Sat. - 5.31 Mon.
 TIME :
1 hour
during
11:00am. to 7:00pm.
 *Only less than 3 people will be accepted in each time schedules.
 *We do not give the permission to visit to our gallery if visitors will be over 3 members.
 *Please contact us if you hope to visit us, until in business hours (11:00-19:00) of the day before visit (mail, telephone, or message from any SNS).
 *Mask wearing, alcohol sterilization, the thermometry at the entrance are required.
 VENUE :
PAKUPAKUAN
(Entrance gallery at 1st floor, salon at 2nd floor)
 RESERVATION :
info@pakupakuan.jp
, TEL 03-3402-3021,
facebook
,
twitter
,
instagram
【インスタライブ配信】
 無料配信
 5月22日(土) 14:00~ (約45分) 会場より 伊豆野一政、青山泰文 (白白庵)
 *白白庵インスタグラムにてご覧いただけます。 https://www.instagram.com/pakupakuan/
【Instagram live streaming program】  
viewing free
 ◎
May 22 (Sun) 14:00-
(about 45min) [from gallery]
IZUNO Kazumasa, AOYAMA Yasufumi
(PAKUPAKUAN)
 *Stream on PAKUPAKUAN instagram
https://www.instagram.com/pakupakuan/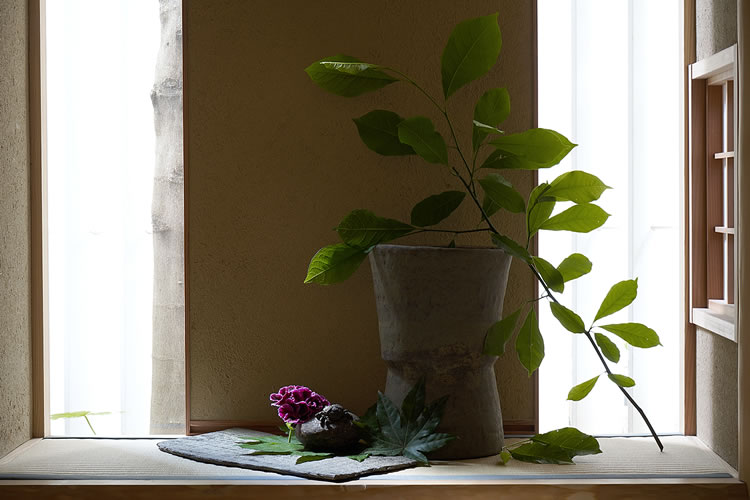 「臼と蟹」 Mortar and crab
HIGAN

西方にある浄土に祈りを捧げ、
東方にて潜伏し「キ」を熟成さす。
「キ」は折しも世界中を覆う感染病蔓延の「機」、
男によって人知れず焼かれ削られ色を施された「器」。

彼岸と此岸の中洲で祠(ほこら)を築き、
黙々と土を操る傀儡子のような男は、
何時しか極楽浄土を見ることを己の悲願とし
パーラミター(波羅蜜)の如く工程を重ねる。

2018年「贋者」、2019年「SHINSO」に続く白白庵での個展第三弾となる今展、
日本の最古典文学「伊勢物語」へのオマージュを取り入れる一方、現代への視座も研ぎ澄ませる。
蜃気楼のように追えば潰え、見失えば現れるその作品の本質は
飄々と佇む老師の影のようでもある。

失われた2020年を経て今この時に
多くの作品がオンラインビューイングで世界中にその存在を伝播され、
彼の地へと羽ばたく飛雁となることを願う。
HIGAN

He prays to the Pure Land in the west,
and hides in the east and matures "Ki".
The "Ki" means an occasion of an infectious disease spreading around the world.

Also, the "Ki" is a vessel that has been burned, carved, and colored by him in secret.
The man builds a small shrine on the sandbar between HIGAN (other side) and SHIGAN (this side) and silently manipulates clay like a puppet player.
It has been his HIGAN (earnest wish) to see the Pure Land of Paradise, and he continues the process as if it were pāramitā (ascetic exercises).

This is his third solo exhibition at PAKUPAKUAN, following "Faker" in 2018 and "SHINSO" in 2019. In this exhibition, he pays homage to "Tales of ISE", the most classic Japanese literature, while sharpening his perspective on the present.
The essence of his works crumbles when you pursue and appears when you lose sight of it as if it were a mirage, which is also like the shadow of an old master standing aloof.

After the lost year of 2020, at this time, we hope that many works will be spread all over the world through online viewing and have become HIGAN (flying geese) flapping their wings to make their way to other lands.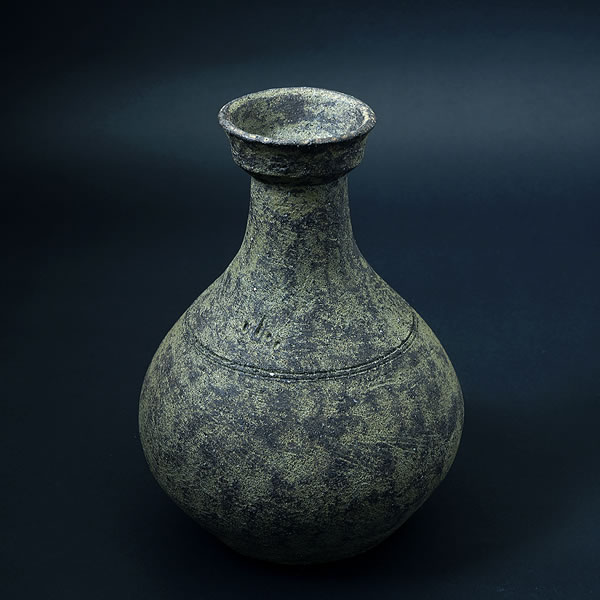 鶴首徳利花入れ Sake bottle with a long neck flower vase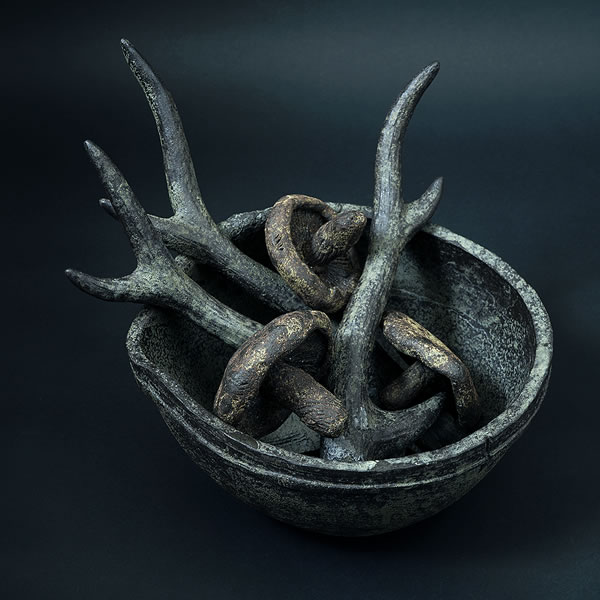 鹿の鉢 Bowl of deer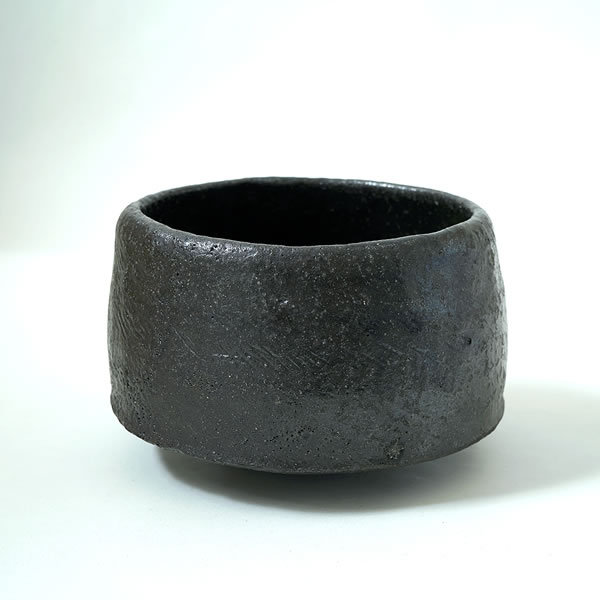 芋茶碗 IMO (potato) tea bowl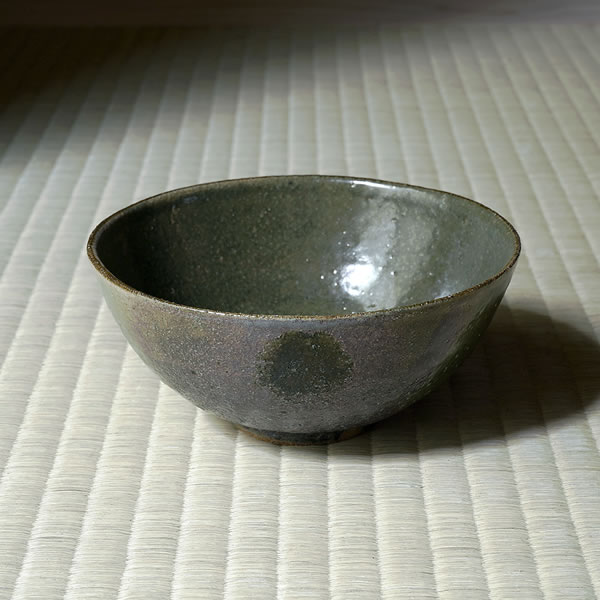 織部茶碗 ORIBE tea bowl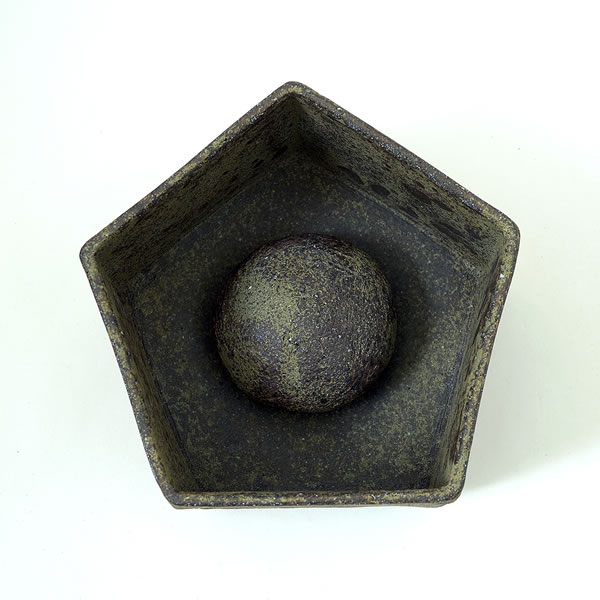 丸い蓋置きと五角の建水 Round lid rest and pentagon slop bowl
【 白白庵オンラインショップ 期間限定 】 PAKUPAKUAN.SHOP For a limited time
 ※公開終了しました。End of publication
「彼岸」見立ての景色
"HIGAN" ~The other world~ /
Analogy works collection page
茶の湯の「此岸」
"SHIGAN" ~This world~ /
Tea bowls & tea ceremony
items collection page
酔いどれの「中洲」
"NAKASU" ~The middle ground
between this world and the
other world~ / Sake cups &
bottles collection page
【常設掲載】
伊豆野一政の世界「祈りの形」
IZUNO Kazumasa's permanent
collection page "Forms of Prayer"
白白庵オンラインショップでは上記作品他にもより多くの作品を掲載しております 【期間限定】 陶芸家・伊豆野一政 個展 「HIGAN」
and more PAKUPAKUAN.SHOP Ceramic artist IZUNO Kazumasa solo exhibition "HIGAN" ~ The other world ~