PAKUPAKUAN Artist
Artist name

高橋 由紀子 TAKAHASHI Yukiko

Work

陶芸 / Ceramic artist

Whereabouts

滋賀 / Shiga

S N S

Facebook/高橋由紀子 , #yukiko__takahashi

Biography

2002 京都嵯峨芸術大学短期大学部 生活デザイン科 卒業
2009 信楽窯業技術試験場 小物轆轤科 卒業
2014 滋賀県立陶芸の森 創作研修館にて制作
同年 信楽にて独立
独学で練り込み技法を習得
その後、全国各地で個展・クラフト展等に出展
2017年には台湾の台南芸術大学にて制作、翌年には台湾で個展を開催
現在も滋賀県の信楽にて工房を構え制作中
2002 Graduated from Life design Department at Kyoto Saga University of Arts Junior
    College Administration Division
2009 Graduated from the department for making small articles on a wheel at Shigaraki
    Ceramic Technique Laboratory of Industrial Research Center of Shiga Prefecture
2014 Made ceramics at the Artist in Residence of The Shigaraki Ceramic Cultural Park
    Independent in Shigaraki
She has acquired kneading skills by herself.
After that, she held exhibitions and attended craft exhibitions all over Japan.
Currently, she is making ceramics at her own atelier in Shigaraki, Shiga Prefecture.
| | |
| --- | --- |
| | |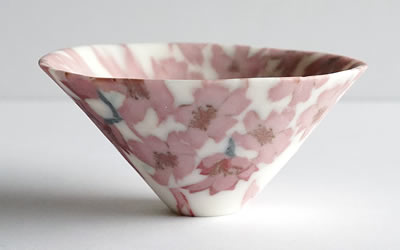 | | |
| --- | --- |
| | |
【主な展示】
2019 白白庵 迎春特別企画 「大縁起物展」(白白庵 / 東京)
2020 アートラウンジ 白白庵常設作品展 「春のしつらえ 壺まつり」(パークホテル東京 / 東京)
    白白庵 春の特別展 「春爛漫 百花繚乱茶会」(白白庵 / 東京)
    白白庵 厄除・迎春特別祈念 「大縁起物展」(白白庵 / 東京)
2021 白白庵 春の特別展 「春爛漫 百花繚乱茶会 2021」(白白庵 / 東京)
    白白庵 企画 厄除・迎春 特別祈念 「大縁起物展 2021-2022」(白白庵 / 東京)
2022 白白庵 オンライン&ギャラリー企画 「輝け!第二回 壺1グランプリ」(白白庵 / 東京)
    白白庵 オンライン&ギャラリー企画 「しゅきしゅき!!大酒器展 2022」(白白庵 / 東京)
    白白庵 春の特別展 「春爛漫 百花繚乱茶会 2022」(白白庵 / 東京)
    白白庵 企画 厄除・迎春 特別祈念 「大縁起物展2022」(白白庵 / 東京)
2023 白白庵 オンライン&ギャラリー企画 「しゅきしゅき!!大酒器展 2023」(白白庵 / 東京)
【Major Exhibition】
2019 Greeting the New Year special exhibition "Great exhibition of lucky charm" (PAKUPAKUAN / Tokyo)
2020 ART LOUNGE exhibition Spring Installation "TSUBO MATSURI -Pot Festival-" (Park Hotel Tokyo / Tokyo)
    PAKUPAKUAN Spring special exhibition "Hundred flowers blooming in profusion" (PAKUPAKUAN / Tokyo)
    Greeting the New Year special exhibition "Great exhibition of lucky charm" (PAKUPAKUAN / Tokyo)
2021 PAKUPAKUAN Spring special exhibition "Hundred flowers blooming in profusion" (PAKUPAKUAN / Tokyo)
    PAKUPAKUAN Greeting the New Year exhibition "Great exhibition of lucky charm" (PAKUPAKUAN / Tokyo)
2022 PAKUPAKUAN presents Exhibition & Contest The 2nd "TSUBO-1 Grand prix" (PAKUPAKUAN / Tokyo)
    PAKUPAKUAN presents "We love! The Great exhibition of items for SAKE 2022" (PAKUPAKUAN / Tokyo)
    PAKUPAKUAN Spring exhibition "Hundred flowers blooming in profusion 2022" (PAKUPAKUAN / Tokyo)
    PAKUPAKUAN presents Group Exhibition "Great exhibition of lucky charm" 2022 (PAKUPAKUAN / Tokyo)
2023 PAKUPAKUAN presents "We love! The Great exhibition of items for SAKE 2023" (PAKUPAKUAN / Tokyo)