PAKUPAKUAN Artist
Artist name

足田 メロウ ASHIDA Mellow

Work

絵画・陶芸 / Painting・Ceramic artist

Whereabouts

滋賀 / Shiga

S N S

#ashidamellow

Biography

1973生まれ
滋賀県信楽町在住
滋賀県の山奥で絵を描いたり、焼き物を作ったり。
「かわいいけど暗い」「幻想的」「変」「やさしい」「ポップ」などなど、様々に
評される作品たちと共に展覧会やライブペインティングで全国各地を巡っています。
出会うために描き、描くために出会う日々。
Born in 1973.
Lives in Shigaraki City, Shiga Prefecture
He paints and makes potteries in the mountains of Shiga Prefecture.
He travels around the country to hold exhibitions and do live paintings along
with his works, that have been described as
"cute but dark," "fairytale-like," "strange," "airy," "pop," and many others.
He spends his days painting to meet and meeting to paint.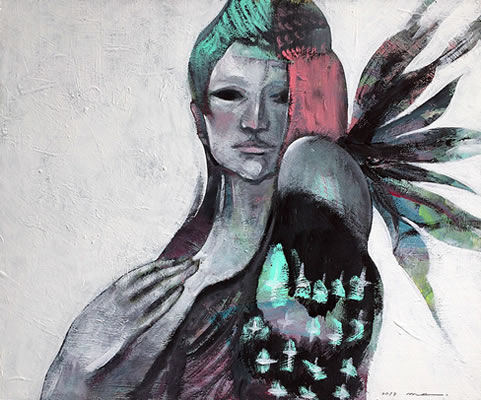 | | |
| --- | --- |
| | |
| | |
| --- | --- |
| | |
【主な展示】
2017 白白庵企画 七人展「日本の肖像」(白白庵 / 東京)
2018 白白庵企画 個展「白還 ~しろにかえる~」(白白庵 / 東京)
2021 白白庵 オンライン+アポイントメント限定 グループ絵画展 「祀画」(白白庵 / 東京)
    白白庵 オンライン+アポイントメント限定 グループ企画展 「祀画 PART2」(白白庵 / 東京)
2022 白白庵 オンライン&ギャラリー企画 個展 「青い盆」(白白庵 / 東京)
【Main exhibits】
2017 PAKUPAKUAN presents group exhibition "Portrait of JAPAN" by 7 artists(PAKUPAKUAN / Tokyo)
2018 PAKUPAKUAN presents solo exhibition "Back to white"(PAKUPAKUAN / Tokyo)
2021 PAKUPAKUAN presents Group painting exhibition "MATSURUE" (PAKUPAKUAN / Tokyo)
    PAKUPAKUAN contemporary artists Group exhibition "MATSURUE PART2" (PAKUPAKUAN / Tokyo)
2022 PAKUPAKUAN presents Online & Gallery solo exhibition "BLUE TRAY" (PAKUPAKUAN / Tokyo)